MY PHILOSOPHY
The words of Del Aor
B ridging the east and west, the future and tradition, spirit and nature… I paint to continually push back the boundaries of perception. The right sign is enough to create the right vibration, to touch the basic essentials. Fullness needs emptiness for energy to circulate. It is all about vibration, colour, form, words and silence. My monochrome paintings and understated shapes express this work of uncomplication that I have been practicing for so many years, but they are inhabited by the sensuality and poetry of touches of gold in random lines.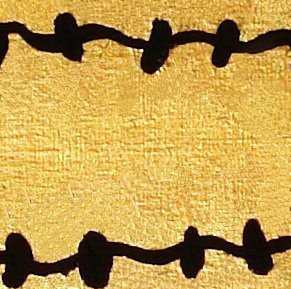 I
have been working with gold paint for about ten years. I love the vibration it produces when respected and listened to. It is subtle, intangible and rare. At once emergence and disappearance, snare and freedom. Gold is a matter of light. Visible and invisible, from the absolute mirror to the deepest dark hole, it creates a play on shadow and light which leads to new limits. It goes further than what humankind can "see". At the edge of matter, it is its first and last smile. Radiant, it is there to enlighten us, the universal secret of the alchemy of life, a transmutation that nature has produced within her soul, showing us that light is there in the darkest depths within us. Man has diverted it and made it a source of envy, wealth and power. Accumulating gold mortifies it, locking it up snuffs out its light and flies in the face of its destiny. It is so generous, a simple touch is all it takes, a single dot
There then appears a brand new space, a space that is vibratory, beyond words and mysterious, within the confines of an unknown dimension. At Kyoto, the temple of gold, whose outer face is entirely covered in gold, there is an island amidst a lake on which lies one of the most compelling places I have ever known in my life. The air irradiates around a luminous and subtle transparency, which opens up its doors to a world of finesse and joy.
Del Aor

L'ARTISTE
Présentée par Valérie Humbert, critique d'art
Del Aor, a French artist with Catalan roots, was born in the town of Cognac in 1950 and has been painting since childhood. After grooming her mind with studies in pure mathematics and philosophy, she enhanced her career through extensive travelling when she went out to meet people on their own territories. At the same time, she worked hard on pictorial matter, always taking her research to new lengths. A long stay in Asia helped her to deepen her knowledge of Eastern thought and to practice Chinese exercises in energy.
By combining the breath she takes with the movement she makes, she has drawn closer to ever new frontiers in painting. Her work is an infinitely challenging balance between the meticulous precision of lines, the use of space and the sensuality of matter to produce the "right sound", which vibrates well beyond each work.
On the outskirts of Paris in her studio home surrounded by an Oriental-style bamboo garden, Del Aor draws on the tranquillity, concentration and contact with nature she needs for her research. Far from the frenetic chaos of the city, she composes, decomposes and juxtaposes colours, matter and gold to attain the fourth dimension, where space and time come together. The eye wanders in pace with the subtle correspondence between volumes and planes, succumbs to the fascination of balance of force between the materiality of her works and the capture of the immateriality of space. Like an astronomer scrutinizing the universe, the eye of the onlooker discovers in her paintings the infinite, or rather the infinites, constellated in tiny golden particles.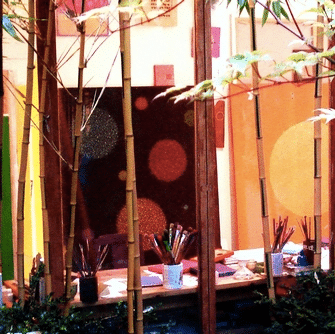 Emptiness and fullness find their balance, colour and light are jubilant. Emptiness creates a zone of meditation prompting inner peace. Fullness, filled with sinuously shaped golden particles, is activated with an intense vibration which, as a whole, irradiates supreme harmony.
A dialogue between rigour and light-heartedness.
Valérie Humbert
Cliquez sur les « + » pour découvrir le parcours de Del Aor
CURRICULUM VITAE
1950 Born in COGNAC. Catalan origin.
1971 Master of Pure Mathematics.
1983 Decides to devote exclusively to painting.
1992 - 1995 Lives and works in Asia.
Currently, Del Aor works in two workshops: in Paris and on the Costa Brava.
Personal exhibitions
2019    UEDA Gallery – TOKYO – JAPAN
2018    OPENART Gallery  –  BORKEN  –  GERMANY
ARTESOL Gallery –  SOLOTHURN  –  SWITZERLAND
2016    UEDA Gallery – DUSSELDORF – GERMANY
2013    IL FONDACO Gallery – BRA  –  ITALY
UEDA Gallery – TOKYO – JAPAN
2011    THALGO  Space –   PARIS – FRANCE
2009    UEDA Gallery – TOKYO – JAPAN
IL FONDACO Gallery – BRA  –  ITALY
2008    Vital Space  –  BOULOGNE-BILLANCOURT  –  FRANCE
2007    Elsa Lorente  Gallery  – VIENNE   – FRANCE
2006    Kadrance Space   –   PARIS   –   FRANCE
2005    PINXIT Gallery  –  TURIN  –  ITALY
DEHAIS Space – PARIS – FRANCE
La MOTTE BEAUMANOIR  Castle –  FRANCE
Les REMPARTS Gallery  –  LE  MANS  –  FRANCE
2004    EDEN   MONCEAU  Institute –   PARIS –  FRANCE
PINXIT Gallery  –  TURIN  –  ITALY
TROCADERO   DOKHAN ' S  –  PARIS –  FRANCE
2003    TRIANON  PALACE  –   VERSAILLES –  FRANCE
2002    ECUREUIL Space  – BAGNEUX  – FRANCE
2001    LEONARD DE VINCI Space – LISSES –  FRANCE
2000    EXPLORADOME  –  PARIS –  FRANCE
1999    Catherine TOPALL Contemporary art space – LONGJUMEAU – FRANCE
Société Générale – PARIS –  FRANCE
1998    KUNSTFABRIK TOR 1 – Engels & Hartman – COLOGNE  –  GERMANY
1988    LA VILLETTE  –  Cité des Sciences – PARIS  –  FRANCE
Monique SARRADET Gallery – CARCASSONNE –  FRANCE
COLLECTIVE EXHIBITIONS
2020-21« Guixart » Espai K, Antic Hospital, Sant Feliu de Guixols – ESPAGNE
2019    KM7 Gallery – GERONA  –  SPAIN
Art Vischerung – LUDINGHAUSEN –  GERMANY
2019    KM7 Gallery – GERONA  –  SPAIN
OPENART Gallery  –  BORKEN  –  GERMANY
2017    IL FONDACO Gallery – BRA  –  ITALY
2016    « Ma » Exhibition  –  DÜSSELDORF  –  GERMANY
2014    IL FONDACO Gallery – BRA  –  ITALY
2013    Galerie HSBC    –    HONG KONG
2011    Art en Lumière    –    PARIS – FRANCE
2010    CARDIN Space  –   PARIS – FRANCE
2009    Girls at work  –   PARIS – FRANCE
32 Fine Arts Gallery  –  NEW YORK  –  USA
2006    Charlotte NORBERG Gallery  –  PARIS –  FRANCE
Mur du Son  –  Cordeliers Museum  –  CHATEAUROUX – FRANCE
2005    Bird Invest   –   BELGIUM
Ambivalence  –  PARIS – FRANCE
ROMANET Gallery –  PARIS –  FRANCE
SAINT LEU Museum – FRANCE
ROMANET Gallery –  PARIS –  FRANCE
Mur  du  Son   –  PARIS – BRUXELLES – NEW  YORK
2003    Pau  GINE Cultural Center   –  BAGES   –  FRANCE
2002    Claudine RATIE Gallery  –  PARIS – FRANCE
2000    UEDA Gallery – TOKYO – JAPAN
1999    ARTITUDE Gallery  –  PARIS – FRANCE
1995 UEDA Gallery – TOKYO – JAPAN
1987     MONTROUGE Art fair – FRANCE
ART   JONCTION  –  NICE – FRANCE
1986     MONTROUGE Art fair – FRANCE
Tremplin – Donjon Museum  – NIORT – FRANCE
GUTHARC BALLIN Gallery  –  PARIS – FRANCE
1985    Jeune Peinture – Grand Palais  –  PARIS – FRANCE
SUD 92  –  ISSY LES MOULINEAUX – FRANCE
1984     Salon de la Lettre et du Signe –  Grand Palais  –  PARIS – FRANCE
Théâtre Gallery  –  BAGNEUX – FRANCE
PUBLIC COLLECTIONS
2012     UMENO Museum  –  NAGANO  – JAPAN
1987     Fond National d'Art Contemporain  –   » La musique des sphères  » –  Acrylique sur toile  –  180 x 210 cm (1986)
1986     Mairie de CHATENAY MALABRY  –    » Deux tourbillons noirs  »  –  Huile sur toile  –  114 x 195 cm (1985)
AUCTIONS
ART PRICE
2008    PIASA  Vente lot n°129 – Semper Vivens XVIII – 1998 – acrylic on paper  – 40 x 29 cm
MEDIA
2013   France 2  TV   26/02  Thé ou Café with Aude de Thuin
2011    Gazette des Arts   » Del Aor Champ Solaire  » par Georges Lévy
Guide des Ateliers d'artistes  Patou Editions
Tangente   » Les mathématiques dans l'âme  » par Hervé Lehning
2008    France 2  TV  22/10  Documentary on color by Laurence Ostolaza
France 3  TV    6/10  Energy painting by Karine Arsène
Acomactive    » Del Aor chez Vital  »  par Maria Bardoulat
Art Absolument    » Del Aor, Champ Solaire  » par Teddy Tibi
La Tribune de Vienne   » Del Aor, La vie en rose « 
2006    Émotion Spa   » Quand l'art se fait soin  » par Galya Ortega
Ouest France  » Une Asie de femmes, de silence et d'or  » par Olivier Renault
Corriere dell'Arte   » Opere scandite da un rigore geometrico »  par  Massimo Centini
France 2  TV  17/05  Thé ou Café with Myung Whun Chung
Opus International  Expos by Jean Luc Chalumeau
Kanal magazine  » Le Jeu ne sait quoi et le presque rien  » par André  Turowski
An invitation to peace
The quest for the uncomplicated, cleansing through emptiness, but this no-clutter exercise is neither too frigid nor too minimal. Within the confines of abstraction, man resurfaces, with emotion and life. The lines of Del Aor vibrate, the geometric figures shimmer, everything is pervaded by sensuality. Harmony is the result of tension between empty and full. With Del Aor, emptiness creates a strand of meditation: her latest, very sober paintings use a palette restricted to primary colours, whose restful symmetry is an invitation to inner peace. The eye wanders in pace with the subtle correspondence between volumes and planes, succumbs to the charm of balance of force between the materiality of her works and the capture of the immateriality of space.
V. R. Midi Libre
Basking in Light
She operates through a uncluttering process, stripping it all down as if searching for the ultimate line. Basking in light, her colours (or rather her colour, as her paintings are sheer light) and her signs are as indescribable as happiness, that she strives to render perceptible. The composition is simple and harmonious, even harmonizing, as visiting her paintings effectively leads to this sort of contagion. A vital journey in reverse: you run towards childhood with an innocence uncomplicated by a pure heart and years of work. Her painting smiles at the heart.
Jaume Galmés, Catalan poet
Daring freedom
A name of light and gold for a woman artist and her original work in every sense of the word. Primal art of virginal sensuality, blending a play on matter, the density of colours and the purity of shapes. A path that comes from afar and still has a long way to go. The choice is clear: that of daring freedom. An amazing and radiant little woman who delivers her bright light with power and finesse, where lines rush forward and contrast on changing matter, run the risk and give rhythm to space until it vibrates with the most daring colours in a subtle harmony. Her painting is coloured vibration, full of joy, audacity and… mystery. Sober and sensual, uncluttered and generous, it plunges you into a dense, personal history where nothing is linear, but everything is fun. Take the time to place yourself inside her paintings and her colours, the way you breathe in a zest of folly, wisdom, audacity, work, adventure, solitude, otherness, silence, secrecy and openness. All is tactile, olfactive and coloured. You will not emerge indifferent from this kind of encounter: the work has body, enough to send a vibration through your own. You might even discover just how much beauty, grandeur, play and radiance there is inside you. Quite simply. Youth is timeless. Not to be missed. The first of its kind.
Amarine GUERLIN, writer
Musical paintings 
Music of Space, of Silence… Silent Vibrations… Music of the Soul and Beyond… Path of Recollection… Pure Beauty, Pure Energy… Center of the Universe and of Self… Secret Breathing… Meditation, Light, Tranquility… A Thousand Thanks!
Alain KREMSKI, composer, pianist
The pictorial balance of DEL AOR
Even if we had not known, we might just have been able to guess that Del Aor, a French painter of Catalan origins, maintains a close relationship with mathematics. In her beautiful personal exhibition at the Pinxit gallery, the artist reveals her link with the world of mathematics through a highly structured quest, without tawdry clutter or formal dispersion.
Her world however is not exclusively locked on to the need for defined and inalienable parameters. Space and color combine to form a poetic structure, an icon, like an essential signal to which is linked a cognitive wealth of a much broader dimension, that of an artist who has attained her current level of research through the emptying of spaces. The actual empty spaces become important spaces, like the cells of a fully evolving organism destined to move towards shapes unknown even to the artist. It's a world in constant search of meaning, playing with infinitely tightened and right balances. Her works are marked by the juxtaposition of sharp, strong colours and shapes apparently simple, but actually very complex. The same goes for the dense succession of question marks which build up in clearly identified spaces as a metaphor of the question.
The artist calls her works "non-suits", to refer to open spaces, unstable territories, flow of free experiments. Where the place disappears, the momentariness of the ubiquity appears. The work requires a viewpoint suggestive not defined by the principles to which we are presently accustomed. The result is complex with versatile effects and, confronted with the works of Del Aor, the observer will be torn between surprise and the lack of any specific point of reference, or at least of a pre-established path.
And while Khalil Gibran was right in saying that "I am a navigator and a traveler, and each day I discover a new region of my soul", a journey into the "non-suits" proposed by the Pinxit gallery essentially turns into an opportunity for knowledge and quest. The journey proposed through all the works assembled here is a subtle journey through the regions of the soul, a way to rediscover empathy between being and appearing, between what is felt and what is portrayed. The "non-suits" would then become spaces in which we notice different ways to achieve a critical examination of our feeling, between the meanders of a need for limpidity and something else that everyone will know how to find by their own devices.
Quite simply.
Massimo CENTINI, art critic Corriere dell'Arte – June 12, 2004
Pure shapes in power…
Her name could have been taken straight out of a Duras novel. Yet Del Aor's real roots lie further south. Catalonia, with just a sufficient dreamy smattering of the East. With tense rigour and sparing use of signs, shapes become established through their infinite accuracy. The coy little flower of hope or life in the minimalist garden inhabited by ideograms: this is Del Aor. "We advance through the irrational…" And here is Del Aor gently and firmly guiding us over these fragile paths. Gold-Blue-Black and then Gold-Blue-White, or again Black-White-Gold and Blue-Black-White. The surprise of colours. This is where Del Aor searches for the smile of plenitude hovering just above the obvious. Mystical? Maybe, the way Francis of Assizes was in absolute uncomplication. Yet here we see an outstretched hand much more than any renunciation. If for you exactingness in art has a value of asceticism and free exercise of intelligence, then you surely need to go and see Del Aor.
J.P.. CHARLUT, art critic
Where did the water-lily fit in?  
Flat tints set themselves apart from such soul-searching. This concern is abruptly filed down. There remains just a rectilinear layer, completely washed out and needlessly without relief. The flat tint is a unique colour, a background that needs caring for, something brilliant. Then the surprise arrival of shadow, the first, which finally delivers verticality. The upright luminous split is rounded on the surface and is presented differently, hammered and sculpted perhaps. The dormant water-lily delivers itself, it swims, spreads and should disappear. But it keeps ringing out, it radiates and is not offended by anyone or anything. There is no disappearance, just the immobile act of painting.
Catherine TOPALL, director of art center